We are a friendly, local company in our second decade of service to West County. We take a humble approach to this industry. The difficult part of what we do is having the perseverance to select and retain only the best staff and the management expertise to keep them pleasant and productive. Any cleaning company that thrives over the long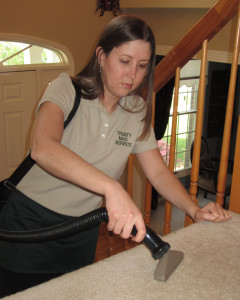 term is probably getting this part of the business right.
As a small but established company, sometime later this year we will complete our one-hundred thousandth cleaning.
Start with Values
Before we ever cleaned the first house – before we were a company – we selected the core values to operate by. Trustworthy Services is more than a slogan, it is our licensed business name and we do business as Trusty Maid Service. We retain only staff members who are Trustworthy, Friendly and Diligent.
As a company built on values, we often appeal to those seeking value. We are not always the cheapest, but for many we offer the valued service relationship they are seeking. You will never get a "Hard Sell" from us. We only want to serve you if Trusty Maid Service is a good fit for your needs and you feel comfortable with us.